GREEN Matamp SLAVE UNIT 200

GREEN Matamp SLAVE UNIT 200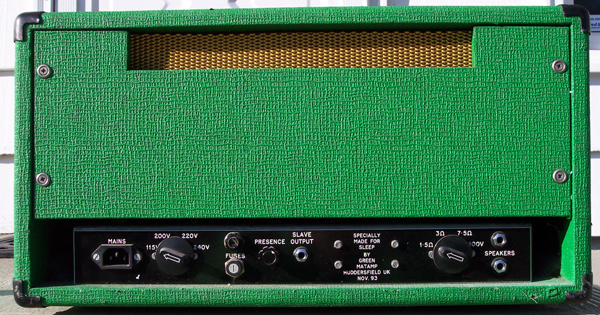 Made in November 1993
All arrangements during this era were coordinated directly by Al from SLEEP/ San Jose, California
with Jet Martin Celmins in the United Kingdom. This amp was one of the first GREEN amps
to be made and enter the USA. At the time the GREEN amps were a mystery and only
seen used by the band SLEEP.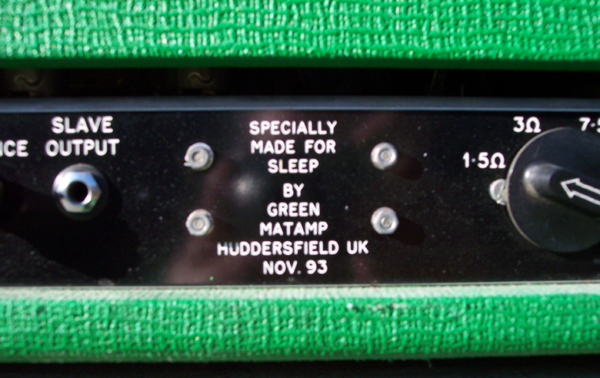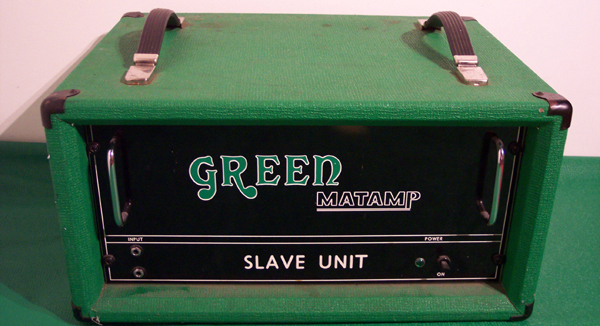 Indoor photos illustrate the original patina from Al's use of this amp.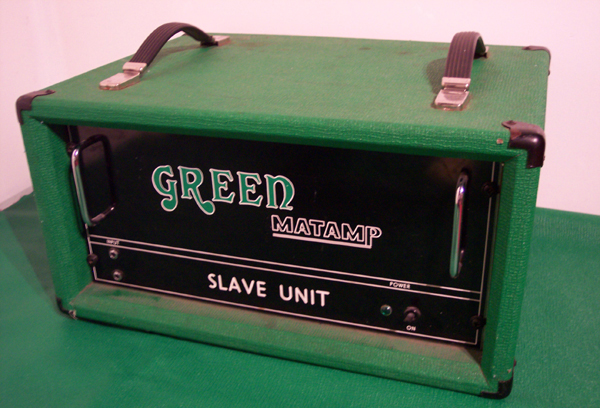 In order to use this amp an amp unit with a pre amp and slave output is required.
This amp utilizes the tone / pre-amp section of the amplifier source feeding it.
Amp units with a "SLAVE OUTPUT" jack connect to this Slave Unit's INPUT jack in
either HIGH or LOW impedence. The SLAVE AMP output volume will cascade
with the Volume output from the amp feeding it through either it's volume knob
or with a Slave Out Level knob. If you were to plug an instrument directly
into the INPUT of this Slave Unit it would be at FULL VOLUME and continue
to escalate until the amp tube capacity has reached max.
Maximum output with KT88's can exceed 230watts.
This amp was used to drive two 4x15's during live events and typically one
4x15 for recording sessions. The amp units that were feeding this amp were
utilizing their own 2x15 or 4x12 speaker cabinet[s].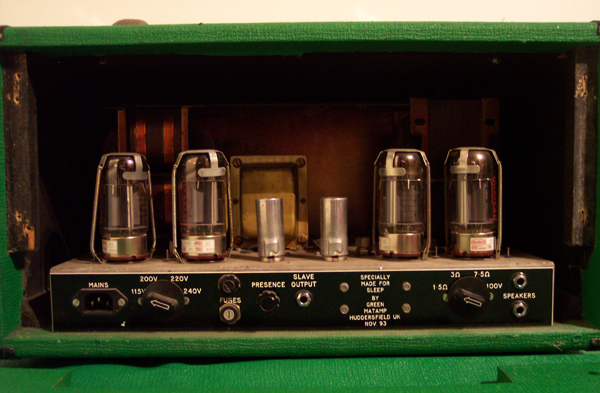 6550 Tubes were used to power this amp for many events and venues due to their availability.
The amp is designed to use KT-88 tubes. This set of RUBY 6550's are the original tubes used
by Al Cisneros during it's last use in the band Om.
Since the amp is a "power source" utilizing only a power section with no EQ, the tone
difference is not effected between the option of 6550 or KT88's.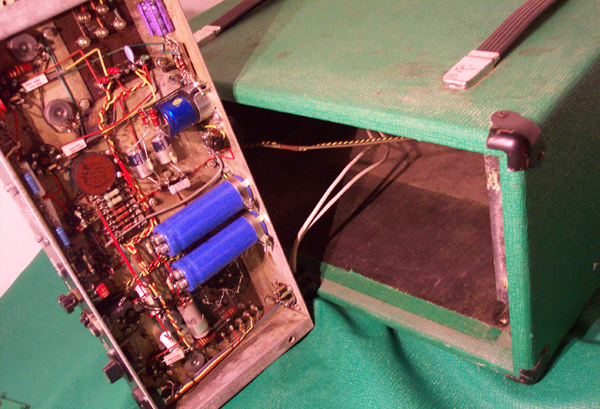 Orginal Amp build by Mat Mathias pre 1978 era. Original stainless steel welded chassis
were used by Mat prior to the blonde enamel coated versions he gravitated to in 1974.
This amp chassis dates between 1972-1978 era Mat Mathias builds. Even though
he built many Slave Units on enamel chassis, he still used these type metal chassis
throughout his amp building period that dates from 1958 to 1985.
These same type of raw metal textured chassis were also used for his very last builds such as the V-14.
The majority of the Slave Amp Units made by Mat Mathias were ORANGE Matamp SLAVE versions
for OMEC [ Orange Music Electronic Company] known now as Orange Voice of the World.
The lead version with a funtional Non Master Volume EQ panel were also made by
Mat Mathias and were called ORANGE Matamp LEAD 200's.
During the 1970's these ORANGE Matamp Unit's graced the stages of Led Zeppelin
Pink Floyd and Black Sabbath.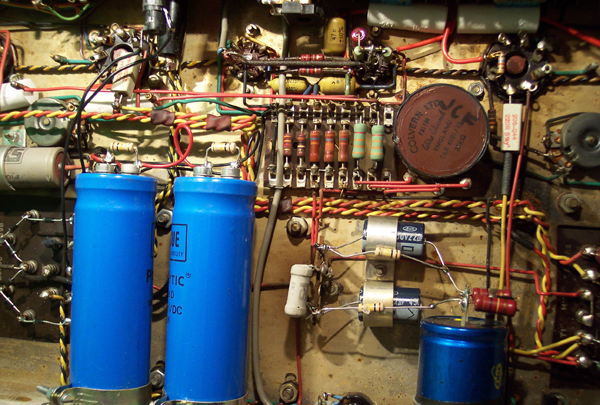 Repairs and maintenance over the last
twenty years have been by various amp technicians. Main harness wires, filter caps and many
resistors were replaced during it's use / ownership to keep it stable and operational.
---
SLEEP
This amp was used by Al Cisneros on the Sleep Recordings
SLEEP - Sleep's Holy Mountain for two songs and the entire
recording session[s] of SLEEP - Jerusalem / Dopesmoker.
The amp was also used for the live shows during 1993 and
Sleep's Holy Mountain USA tour in 1994.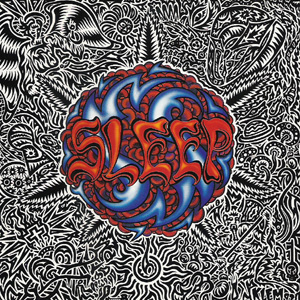 SLEEP - Sleep's Holy Mountain
[ two songs ]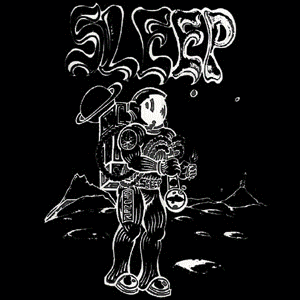 SLEEP - Jerusalem / Dopesmoker
[ entire recording ]

---

Om
The amp was dormant during the time period from late 1994 until 2004.
Al Cisneros returned to the music industry with his new band Om in 2005.
Al used this amp for the entire recording sessions of
Om - Variations on a Theme, Conference of the Birds and Pilgrimage.
The amp was also used for all live shows from 2005-2009.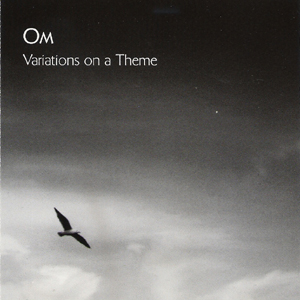 Om ~ Variations on a Theme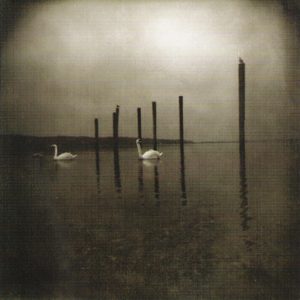 Om ~ Conference of the Birds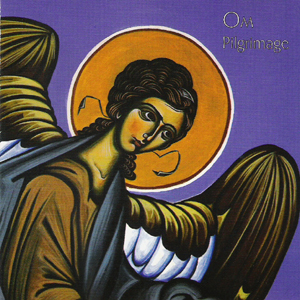 Om ~ Pilgrimage
---
all rights reserved 2014 ~ greenamps.com