ELECTRIC AMP Innovations, USA - POWER UNIT
---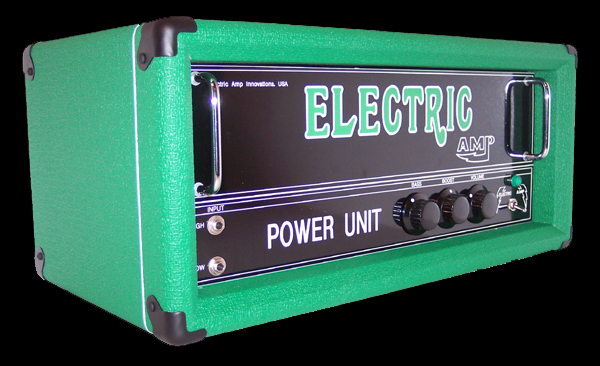 THE POWER UNIT
3 KNOB: BASS - BOOST - VOLUME
3 Models Available:
4 - EL34 120watt
4 - KT88 180watt
2 - KT88/2-GZ34 69watt
2 - EL34/2-GZ34 51watt

Hand Wound Mercury Magnetic Transformers matching each Tube/Valve choice.
HD Welded 12 & 14 Gauge Detroit Hot Rolled Steel Chassis powder coated in GREEN.
Authentic MILITARY Point to Point, Turret Board, Hard Wire construction.
High Grade US Stainless STEEL fasteners for secure assembly and long service life.
4 Amp Technician Bias Clams and Test Points for each power valve inside the amp.

High Quality Finished Marine Grade Birch Plywood Amp Sleeve.
2 Large Air Vents tested to release heat created from Tubes/Valves.
Covered in ELECTRIC GREEN [TM] Vinyde made here in the USA.
HD BLACK Metal Corners with high grade US Steel fasteners.
Solid Maple wood skis mounted on the bottom with recessed holes.
Custom Roland CNC Engraved & Painted front panels in Black or White.
ELECTRIC AMP [TM] Solid Phenolic Big Round Knobs with Metal Bushing and Set Screw.


The ELECTRIC AMP Power Unit, can be used for your MAIN or SLAVE Amp.
RAW SOLID TUBE AMP POWER for clean and high volume natural overdriven tones.
This unit will provide a solid foundation for Rack Mount FX systems, or multiple box effects.
Perfect for wet or dry PRO AUDIO Sound & DJ systems too.
- BASS provides bass frequency up and down.
- BOOST brings up your bottom end and will "Boost" the drive.
- VOLUME adjusts the level of output.
This AMP is not intended for low volume. IDEAL if you want your bass or guitar blazing loud with
tube tone OR if you want your current amp to have MORE Power. This amp ALSO has a
slave-out with a level-output knob on the back like our other 2 AMP Units.



all rights reserved 1999 - ELECTRIC AMP Innovations, USA